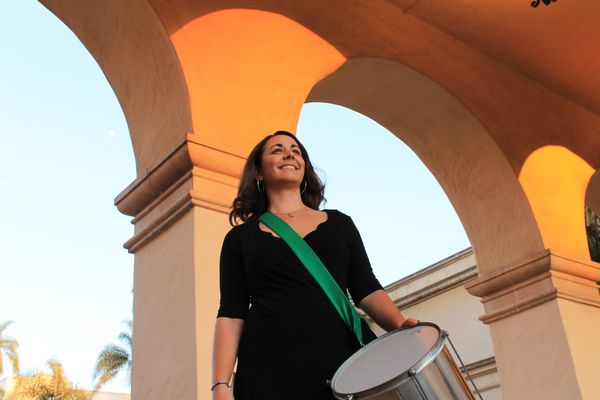 Multi-instrumentalist, artist and teacher, Stefanie Schmitz has been exploring the San Diego music scene since 2001. Clarinet, tenor saxophone, and Brazilian percussion are among the instruments with which she expresses her eclectic platform of genres including jazz, classical, samba, gypsy jazz, choro, funk, musical theatre and more. Stefanie attended UC San Diego where she received bachelor's degrees in Music Performance and French Language Studies.  She directs and performs with a number of San Diego based music groups including Manouche Five, Cajuina, and Choro Sotaque. The same knowledge and enthusiasm she exhibits as a band leader she inspires in her students, teaching private and group lessons on clarinet, saxophone, and percussion to a range of ages and levels at La Jolla Music and Kalabash School of Music & Art. She also teaches Brazilian percussion in schools in conjunction with the Center for World Music and Arts for Learning San Diego.

After college, Stefanie's love affair with Brazilian music began when she took a samba drumming class. She started San Diego's first choro group called Choro Sotaque in 2009, performing traditional Brazilian folk music on clarinet. She also performed with and led a community based Brazilian drum and dance group called Super Sonic Samba School which performs regularly for festivals and events around San Diego. Stefanie seeks out her yearly fix of new inspiration at California Brazil Camp, a weeklong music and dance camp in the redwoods. In 2013 she left her staff position at UC San Diego to embark on a six-month musical odyssey to Brazil where she absorbed Brazilian language and culture and studied with masters of samba and choro in Rio de Janeiro, São Paulo, Olinda, and Jericoacoara.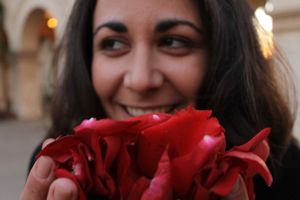 Stefanie plays clarinet with Manouche Five, a local group specializing in gypsy jazz and the music of Django Reinhardt. Her Brazilian group Cajuina plays samba, bossa nova, MPB, and forro every Saturday at Cafe 21 downtown. Stefanie is a Resident Artist for Lambs Players Theatre, performing in the orchestras for Fiddler on the Roof, Les Miserables, West Side Story, and American Rhythm. She played saxophone for San Diego's eclectic funk/rock/reggae band Restoration One which was nominated for a 2014 San Diego Music Award. She can sometimes be seen playing solo at the Spanish Village in Balboa Park or organizing a superhero theme song flash mob during Comic Con.
When Stefanie is not playing music or teaching, you can find her making art, tap dancing, practicing yoga, or singing in her car. She blogs about her musical adventures at
Eveything Is Music
 and she sells her original handmade jewelry in San Diego coffee shops and on
Etsy
.

To contact Stefanie please email contact@stefanieschmitz.net and sign up for her mailing list below.  Check the Events tab for upcoming performances and check back here at stefanieschmitz.net for news and updates.